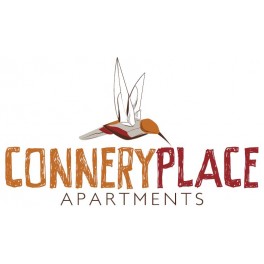 Your Review
Submit a Review

Resident Reviews
Perfect for the 1bdrm rental price
|

Recommended: Yes
Great apartment option off 82nd|Recommended: YesI've been living in Connery Place for almost 1.5 years and it has been a great experience. Maintenance is always responsive and quick to fix things, the apartment is cute and in good shape, and I've always enjoyed talking with the manager, Lacey. Good option if you don't mind apartment living i.e. hearing your neighbors close doors every one in a while, usually during the day and want a place with a friendly community.
Great Community
|Recommended: Yes
The residents are wonderful, property manager is excellent, always a quick response to any maintenance issues. All-in-all one of the best places I've lived, I wouldn't be leaving this complex if I wasn't leaving the city.
Thank you for your kind words Tom! We'll miss you around here!
Great apartment complex, with a small community feel.|Recommended: YesFairly quite community, and very welcoming people. Next to 82nd, but you can't hear any traffic... clean and well maintained pool and property grounds. The BBQ's and pool-side relaxation is awesome with good people, and some music.
Decent property|Recommended: YesIt is a decent place. Old construction unless you want to pay a premium for the updates units. grounds are well kept and if there is ever a problem it is taken care of pretty fast.
I love it here, needed updates already in effect
|Recommended: Yes
I enjoy this community, and the neighborhood as well Friendly neighbors and staff
Thank you for taking the time to leave this review! We love having you as part of our community!! -Connery Place Management
This is a quite and safe community in an amazing neighborhood|Recommended: YesVisitor parking is nonexistent - folks just park their for days, weeks, months on end. It is annoying. Everyone pretty much keeps to themselves. That being said, we have yet to live here during pool season. WE ARE SO EXCITED People are really friendly and seem like they would help you out in a pickle. Rod is AWESOME
Minor improvements would make my rent understandable
|Recommended: Yes
Rent's expensive in all areas of Portland. On 82nd we are very close to noise from the streets and surrounding areas. For a two bedroom, our rent was understandable while signing the lease as it was our only option with real management, which was a concern at my prior building. Lacey is great. We love her. Parking is only available if you pay for a spot and there is absolutely no visitors parking. The one spot has a cone and has the same car parked there 95 of the time. There's some 15 minute parking on the street and our over flow seems to be in the restaurant parking lot. My neighbors work night shift so it's to be expecting but I can here them argue and their television often. The grounds are kept well, there's little to no trash, management is prompt about pet owner's picking up. We have an attractive and appealing little community. There could be more flowers less barkchips. I've called maintenance before and it was responded to immediately. Ron is awesome and is always seen around property hard at work. I will soon call again because the hot water is not enough to fill the bath... Heat is expensive. Apartments always have baseboard heating but it sucks. Windows aren't very insulated and my bedroom heater is positioned below it. More storage options in apartments would be nice but the layout is small in general.
Good Morning, Thank you for your review. We appreciate all feedback, so we greatly appreciate your honesty. (We also love to hear positive notes about our staff!) We do have some great changes coming to the community in 2017 that I believe you will enjoy. Additionally, the vehicle in the visitor parking spot is being taken care of as I write this. If you would like to submit a maintenance request for your hot water, I will send Rod over as soon as possible! Again, thank you for your feedback and for your suggestions, and stay tuned for some exciting changes in 2017! Regards, Connery Place Management
Love it so far|Recommended: YesThe property is clean, the staff Lacey is wonderful, and everyone who lives here is friendly and helpful
Very friendly management, maintenance personnel, and neighbors|Recommended: YesThey did a wonderful job in renovating the apartments and I really have enjoyed living here. A couple minor fix-it issues occurred during the time I've been here but they were fixed either the same day or the next day. Overall, its a pretty fair price compared to other apartments I've lived in. I like how the apartments are tucked in to the center of the block, which gives it more seclusion. Great place if you have a pet. There are a lot of dogs and cats in this complex.
It is an awesome place to live|Recommended: YesYou couldn't ask for a more friendly community everyone here is really nice and so is the property manager. There is no problems with noise or the location of the apartment complex. I would totally recommend my friends and family to come check out the community and see for themselves how a great place it is to live here
Great price, great place|Recommended: YesWe moved in during the changes, and boy are we excited about how they've updated the place. New mailboxes, relaxing pool changes, FREE LAUNDRY SOAP, new website.... We're having a great time here. Not to mention the very friendly staff. The management is doing a great job. You should live here.
Love it|Recommended: YesConnery Place has such a nice community feeling. Both the manager and the maintenance supervisor are friendly and welcoming, and the community as a whole is quiet oasis in the middle of the city.
The views and opinions expressed herein are solely those of the original authors and other contributors. These views do not reflect the views of Connery Place, its owners, managers, agents, employees or content providers. No representation or warranty, express or implied, is made or given by Connery Place, its owners, managers, agents, employees or content providers regarding safety, accuracy, completeness or suitability of the information or material expressed herein for any particular purpose